Bentley Continental GT V8S Coupe
Originally launched in 2003, the Bentley Continental quickly became the byword in relaxed, modern luxury travel. Combining the mass-production know-how of the Volkswagen Group with the refinement of the craftsmen at Crewe, this car proves that breaking with tradition doesn't mean lowering quality. The Bentley Continental GT we have for hire is the third incarnation of the vehicle, and this hand-assembled, hand-trimmed car now offers a raft of improvements to the styling, cabin layout and efficiency.

It feels incredibly special inside this two door four seater car. Everything is made to the highest standards, which creates an ambience of supreme comfort and refinement in these sumptuous surroundings. Outside the car, of course, there is the beautiful and distinctive styling that have made the Bentley Continental an icon amongst luxury sports coupes.
PERFORMANCE
This Bentley Continental GT coupe we have for hire comes with a beefy, glorious sounding four litre twin turbo V8 engine that delivers excellent performance. In particular the acceleration is superb, the engine's 500 horses creating a sizzling 4.8 second 0-60 MPH time and a top speed of 190 MPH.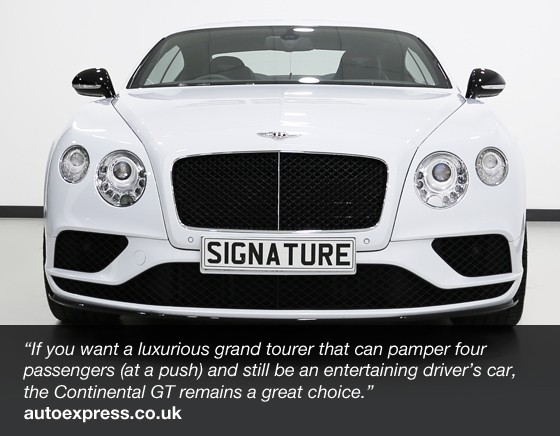 On top of the exceptional engine the car also features four wheel drive, which offers great grip and a satisfying sense of complete control when you are behind the wheel. Whether you want sports-style handling or the ability to simply cruise along the motorway for hours with sublime ease, this car delivers on every front – whatever the conditions.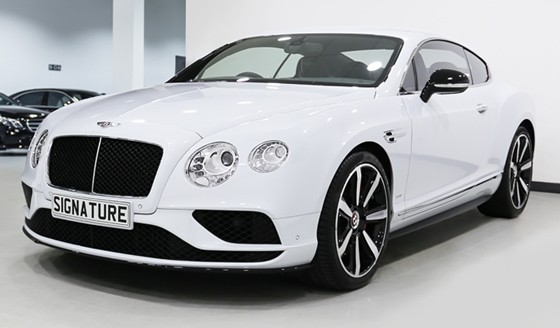 Torque is an impressive 487lb ft, which is all available from 1700rpm all the way up to 6000rpm. This mighty heft flows to all four wheels through an eight speed ZF automatic gearbox. The suspension has been tweaked on this model to be lower and stiffer, while the steering has also been optimised for improved precision and feedback.
As the knowledgeable folks at Top Gear report: "Drop the gearbox into D and this four-seater will cheerily burble across any continent you choose to point it at, with that dismissive poise that has cemented the Conti such a mighty GT car." Top Gear
INTERIOR
Our Bentley Continental GT contains exceptionally high standards of interior trip and design, as one would expect from a car of this pedigree. The leather is sumptuously soft, and while your skin is enjoying the feel of this material your toes will be sinking into to delightfully deep pile carpets. Leather, turned aluminium and gloss veneer accents on the dashboard and other areas provide aesthetically pleasing details, and as everything is hand finished the quality of these materials is second to none. LED ambient lighting throughout the cabin ensures that you can set just the right mood for your journey.
The Continental GT comes with a large touchscreen infotainment system which features a comprehensive navigation suite. European mapping and satellite landscape imaging are included, meaning that you're covered for almost any journey you might wish to take! You can connect your devices to this system using Bluetooth, or simply enjoy output from the inbuilt eight speaker, eight channel music system.
Although the room in the back two seats is a little limited – we wouldn't recommend it for adults on longer journeys – it does create a roomy feel within the car and provide extra storage space for front seat passengers with lots of luggage. Storage space is also available in the centre console cubby, not to mention the 358 litre boot.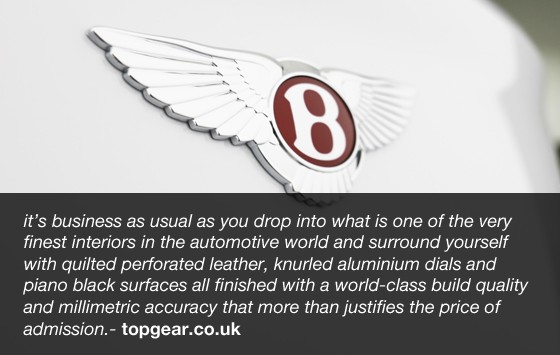 EXTERIOR
The Bentley Continental GT comes with modern, sporty styling that appeals to a wide variety of audiences. Despite this, however, it also features styling cues that are unmistakably Bentley, meaning spectators don't need to see that famous winged B on the bonnet to know you're driving something exceptional.


The Bentley Continental GT has a low, wide stance, accompanied by flowing lines and distinctive design features. The wide front bumper, iconic radiator shell and pronounced fenders lend the front of the car an assertive, confident stance. In particular, the fender vent with its metallic 'B' ornament emphasise the renowned Bentley 'power line', which flows gracefully from the front arches rearwards.


The rear of the Bentley Continental GT is beautifully sculpted, with a pronounced aerodynamic profile to the trailing edge. A wide rear bumper and distinctive tail lights complete the powerful picture.


Overall it looks like what it is, a superb Grand Tourer that puts a delicious twist on the traditional Bentley power, performance and style.