Lamborghini Aventador LP750-4 SV
OVERVIEW
The Lamborghini Aventador Superveloce might almost seem like an unnecessary addition to the range. After all, the 2011 Lamborghini Aventador has a 690BHP engine, is impressively fast and is the most successful Lamborghini V12 of all time. Yet it turns out that you can in fact improve on perfection, if you're willing to pay the £315,000 price for a Lamborghini Aventador Superveloce.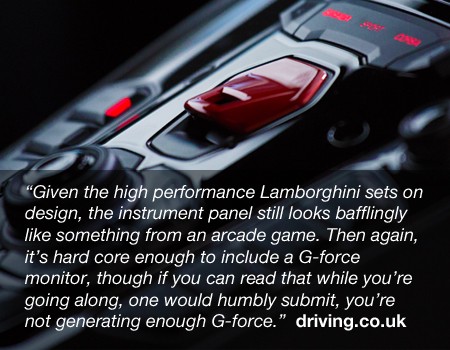 As anyone who drives the car will immediately realise, Superveloce means 'very fast' in Italian. It's a label that's been previously applied to the Murcielago, the Diablo and the Miura, and its addition to the Aventador model is nothing short of spectacular. Now the fastest production Lamborghini on the planet, the car provides a truly stunning motoring experience. It's hard to come by, however, as only 600 models have been made. We are very proud to offer one of these thrilling vehicles for hire at Signature.

INTERIOR
The Aventador SV's interior specs are noteworthy, because the car is the first production Lamborghini to feature Carbon Skin, Lamborghini's lightweight, incredibly strong version of carbon fibre reinforced plastic. This innovative material lines the car's roof, seats and more, aiding the slicked-back, pared-down appearance that instantly marks it out as a true sports car. Yes, the interior is a little sparse, and it's not built for comfort, but the state-of-the-art sports seats ensure you know what you're there for. Flappy paddle gears adorn the slim steering wheel, behind which is a futuristic display providing you with vital performance data. There's even a G-Force monitor, in case you weren't taking this car's potential for speed seriously. A bank of switches completes the sporty set up.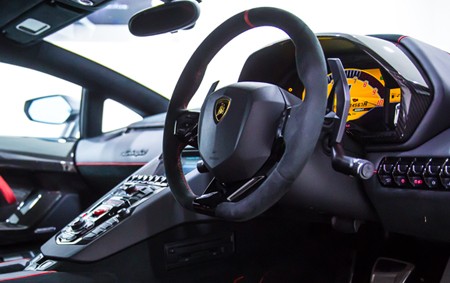 WHY HIRE
If you're a fan of Lamborghini, or enjoy performance-orientated sports cars in general, then you'd simply be mad not to. The Lamborghini Aventador LP 750-4 Superveloce presents a chance to see one of the world's best marques at the top of their game, and to enjoy a motoring experience that can usually only be found in track-focused cars. With only 600 of these cars in the world, and all of them sold, Signature's Aventador SV is a unique opportunity to test this stunning car, without any of the hassle that comes with ownership and maintenance.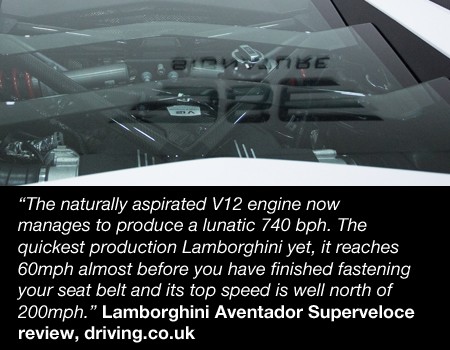 Whether you just want to treat yourself, or know a Lamborghini fan that would love to experience life at the wheel of this automotive beast, hiring our Aventador SV is the perfect option. Although it's not built for comfort it certainly does make an impression, so keep it in mind for those very special occasions when you want to turn up in the best car at the party.
PERFORMANCE
Reviews all point to the Aventador Superveloce outstripping the original in every way. Referred to as "the most pure incarnation of a Lamborghini to date", the car has been given 50 extra horsepower, bringing the naturally aspirated 6.5 litre V12 engine to a total of 740BHP. This impressive power takes the four-wheel-drive car from 0-62MPH in just 2.8 seconds. When you recover from that shock, you can try hitting the car's top speed, an astonishing 217MPH.
It's not just the extra oomph that makes the lamborghini aventador lp 750-4 superveloce so fast, it's also had some nifty modifications. For a start, it's 50kg lighter, thanks to an extensive programme of upgrades that's seen engineers replace the door panels, rocker covers and bumpers with carbon fibre versions. Although the carbon fibre monocoque remains, the removal of the radio and other fripperies like carpets mean that the car now only weighs 1,525kg.While you might be missing your music, you will benefit from a power-to-weight ratio that's been increased by 10%.
Performance is also aided by the upgraded automated manual transmission on the Lamborghini Aventador SV 2016, which the marque boasts as offering the fastest gear shift in the world. No Aventador SV review has thus far disagreed! The car also features adaptive steering and electronic stability controls, to ensure you're always confident behind the wheel. In terms of the wheels, Lamborghini have also added new Magneto Rheological Suspension, which adjusts the damping on each individual wheel when cornering, helping increase cornering speed and suppress body roll. This is further augmented by carbon ceramic brakes.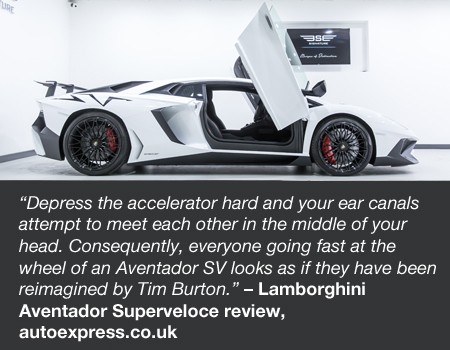 EXTERIOR
The Aventador SV builds on the original's classic styling by adding sportier, more aggressive touches. The front end is angrier, with a redesigned front skirt and edgy carbon fibre bumper, alongside larger front intakes to cool that monster engine. Side skirts have also been added, as well as a large race-style rear wing that can be switched between three settings and enhance the aerodynamic power of the rear by 15 percent.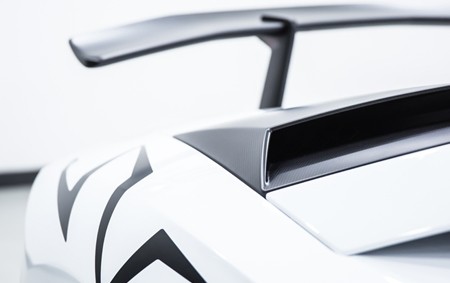 This is augmented by an enormous rear diffuser that covers four tailpipes, as well as a mesh rear panel and extra radiator to further ensure the engine keeps cool. Overall, critics say that the new aerodynamic modifications have increased downforce by 170% when compared to the standard Aventador. What's appealing about the new styling is that they haven't lost the classic touches that made the original version so popular, including that angular aesthetic and distinctive rear profile.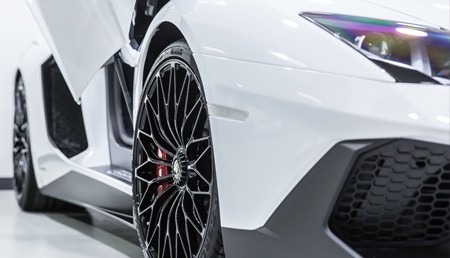 MAKE: LAMBORGHINI
MODEL: AVENTADOR LP750-4 SV
FRONT SEAT: 2
REAR SEAT: 0
BODY STYLE: COUPE
EXTERIOR COLOUR: BIANCO ISIS
INTERIOR COLOUR: BLACK /RED
TRANSMISSION: AUTO
FUEL TYPE: PETROL
ENGINE SIZE: 6.5L V12
POWER (BHP): 740 BHP
0-60 TIME: 2.8 SECONDS

MPG: 17.6 MPG
TOP SPEED: 217 MPH
COST OF CAR NEW: £354,357
TORQUE: 509FT/LB
DRIVE: RHD
DOORS: 2
DRIVE TYPE: AWD
ELECTRIC SEATS: YES
CERAMIC BRAKES: YES
L.E.D BRAKELIGHTS: YES
: HEATED AND AUTO DIMMING DOOR MIRRORS: YES
EXTERIOR FEATURES:
BIG SV LOGO
CARBON FIBRE STYLING
TRANSPARENT ENGINE COVER
ENGINE AREA IN CARBON FIBER
RED BRAKE CALIPERS
STANDARD EQUIPMENT:
SATELLITE NAVIGATION
BLUE TOOTH CONNECTIVITY
IPOD CONNECTIVITY
AIR CONDITIONING
ON BOARD COMPUTER
REVERSING CAMERA
TYRE PRESSURE WARNING
SECURITY SYSTEM
MAGNETO SUSPENSION WITH RED SPRINGS
REAR VIEW CAMERA
SENSONUM PREMIUM SOUND SYSTEM
INTERIOR FEATURES:
ELECTRIC SEATS
HEATED SEATS
CLIMATE CONTROL
AIRBAG
KEYLESS GO
START/STOP BUTTON IGNITION
MULTIFUNCTIONAL STEERING WHEEL
CARBON INTERIOR PACK
BRANDING PACKAGE WITH ALCANTARA
CARBON SKIN PACKAGE
ROSSO SEAT BELTS
FOOTPLATE IN CARBON FIBRE